Description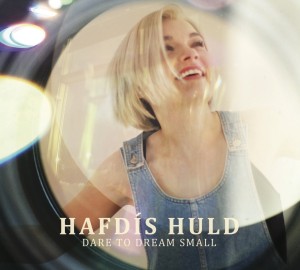 RELEASE DATE 28TH JULY 2017
PRE-ORDER NOW TO RECEIVE 20% OFF USING DISCOUNT CODE 'DREAM2'
(JUST ENTER DISCOUNT CODE AT CHECKOUT)
COPIES ORDERED HERE WILL BE SHIPPED TWO WEEKS BEFORE RELEASE
'Dare to Dream Small' is Hafdis Huld's fourth full studio album and sees her return with a full band plus strings to celebrate and pay tribute to the small things in life. Once again, she has written with some of her favourite co-writers including Boo Hewerdine, Tim Gordine, Nik Kershaw, Calum MacColl and Alisdair Wright (who also arranged and produced the album). This is a beautiful sounding album that combines Hafdis's trademark honeyed vocals with sharply observed lyrics, hook-laden choruses and lush arrangements.
The album was recorded in Hafdis and Alisdair's home studio in the mountains outside Reykjavik in Iceland. The string quartet that played on 'Broadchurch' added Alisdair's moving string arrangements with spine-tingling results.
Every song on the album weaves an intoxicating story about the important little details of life: dancing with a lover, watching a sunset with friends, seeing a child blossoming into adulthood. But others are darker and acerbic: tackling emotional bullying, leaving a far-from-perfect relationship, or wondering what happens to the homeless at night.
'Dare to Dream Small' is perfect Hafdis Huld: sharply observed, funny, poignant, joyful and always memorable.
Hafdis Huld – Dare to Dream Small'  Track Listing:
1. Summer Inside
2. Take Me Dancing
3. My Heart Sings
4. Last Rays Of The Sun
5. Leaving Me Behind
6. Violet
7. Underdog
8. Is It Better?
9. By The Road
10. Fineshade Forest
11. Dream Small
12. By Now
Hafdis Huld social links: