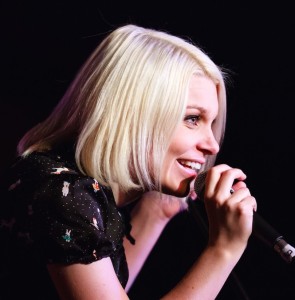 Photo: Junction 10 Photography
Hafdis Huld is approaching the final few gigs of her current UK tour and what a great tour it's been.  Many of the gigs sold out well in advance and audience members travelled from all over Europe and even the USA to see her and Alisdair Wright play.
Hafdis's new album, 'Dare to Dream Small' will be released in the summer, but those who came to the shows were able to get pre-release copies.  The after-show signing sessions often went on until the venues closed, with Hafdis taking plenty of time to talk to everyone and pose for photographs.
There were some great reviews too:
It's rare I go to a gig and then buy all the performer's albums, but this was one of those times. I was majorly impressed and wonder why I'd never heard of this brilliant, funny, singer and her uncomplicated songs and expressive lyrics. Her rapport with the audience made this intimate gig (Bromsgrove, April 2017) have a welcoming, 'I'm playing just for you' feel. Highly Recommended.
Brilliant gig at Hug and Pint in Glasgow last night. A real treat. Hafdis's effortlessly beautiful voice, the lovely dynamic between her and Alisdair, and a great mix of old favourites and new material. Gorgeous tunes and lyrics that make you smile but are also often moving and very true. Here's to the next tour!