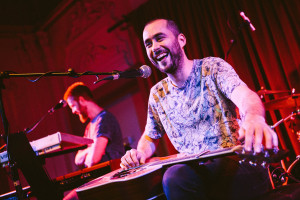 Things moved very quickly when innovative British musician Jake Morley showcased at Toronto Canada's newest music conference FolkNorth in late 2016.  A storming live set caught the ears of the influential music community including Director of Folk Music Canada Tamara Kater, established music promoter Brad Hunt and respected US booker Mark Lourie of Skyline Artists. Follow-up showcases at 2017 Folk Alliance International in Kansas attracted the added attention of several record labels as well as festival organisers and concert promoters across Canada and North America.
Jake's Canadian agent, Jo Beattie of the Damer Agency, said "I'm delighted to be bringing Jake to such prestigious festivals across Canada this year – his future is looking very bright indeed".
Jake's Canadian Tour kicks off June 23 in Edmonton, playing North County Fair and includes festival appearances in Nova Scotia and British Columbia, with more to be announced. Jake also will be performing a week of shows in Victoria July 25-29.
Jake Morley 2017 Canadian Tour Dates
June 23rd-25th – North Country Fair Festival, Edmonton Alberta
June 26th-29th – Songwriters' Camp, Nova Scotia – guest writer in residence
June 30th – July 1st – Stan Rogers Festival, Nova Scotia
July 18th – Concert, McArthur House, Prince George BC
July 20th – 23rd – Island Folk Festival, Victoria BC
July  25th – 29th – Concerts, Victoria BC
"We like this a lot" Dermot O'Leary, BBC Radio 2
"It's phenomenal to watch him but it's still more daunting to consider that he also sings up a storm and writes cracking songs.  Jake Morley is a true original".  Acoustic Magazine
""When do you listen to this? What are you doing right now? Exactly. Press play. Thank me later."  Rough Online
"Incredibly original musicianship, inventive lyrics and real sense of care whilst retaining the freshness. Bravo Monsieur Morley, bravo indeed." Listen With Monger
"I am just completely mesmerized by this album."  IndieBandGuru
"A melodic and lyrical piece of art, made for the fans of Peter Gabriel, Hozier, Gotye and all those with good taste." Music Crowns
"I am in danger of boring you to death with superlatives – 'The Manual' is something very special." Beehive Candy