Jake Morley selected for Official Showcase at FAI Kansas

We're absolutely delighted that Jake Morley has just been selected to perform an official showcase at Folk Alliance International in Kansas next February. He played unofficial showcases at FAI earlier in 2017 and it's an honour for him to move up to an official showcase in 2018.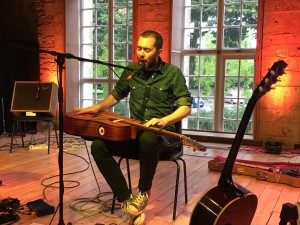 Things have moved very quickly since Jake Morley showcased at Toronto's FolkNorth late last year.  He received invitations to play some of Canada's most prestigious festivals in 2017, resulting in well-received performances at North Country Fair Festival, Edmonton, Stan Rogers Festival, Nova Scotia, Vancouver Folk Festival and Island Folk Festival, Victoria. Along the way, he co-hosted a songwriters' camp in Nova Scotia, played over 20 local concerts and had a track included on CBC's Folk & Roots playlist.  In September '17 during his 4th trip to Canada in the space of 12 months, he showcased at Music PEI and was chosen to take part in an artist exchange programme with acclaimed PEI artist Dylan Menzies.  With both Canadian and US booking agents joining the team, we're looking forward to an even busier 2018 for this talented artist.