Luke Concannon joins Red Grape Management roster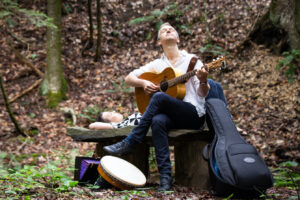 We're delighted to be working with Luke Concannon, formerly one half of folk hip hop duo Nizlopi who had a #1 single with The JCB Song.  Credited by Ed Sheeran as one of his main influences, Luke's story is complex, creative and inspiring.
After experiencing fame and success as a songwriter in his 20's, the subsequent heartbreak of losing his band and community was tough. He hitchhiked to Palestine, volunteering as a peace worker in the West Bank. After meeting the American classical singer Stephanie Hollenberg on holiday, he followed her back to the USA where they married in 2018. His struggle back to a place of belonging has resulted in a deep understanding that it is the interplay of light and dark that make
us whole.
His first new album in 8 years (and only his second solo album) will be released in February 2021. Ecstatic Bird in the Burning is a mesmerizingly honest collection of songs written whilst staying on Grammy and Tony award winning song writer Anais Mitchell's farm. In the best tradition of his Irish roots, storytelling runs through Luke's bones. Part love letter, part poem, part call to action, the album alternates between grief and zest for life, despair and hope, anger and love, destruction and growth. It explores the ecstasy of being alive, even (perhaps especially now) in a burning world.